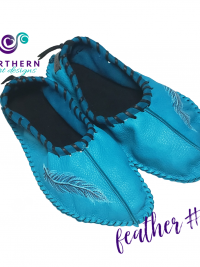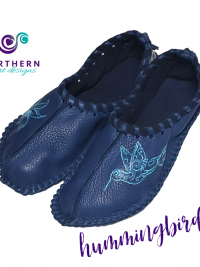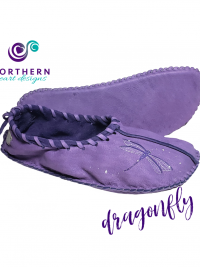 White and Purple Deerskin Ballet-Style Flats, Ladies size 6
This listing is for one pair of ladies size 6 Ballet-style flats, made in white deerskin with purple deer accents.   
Features:
A ballet-flat style moccasin made exclusively with the softest deerskin. 
A thin layer of high density memory foam between the inner and outer leather soles - adding just a touch of cushion under the foot but taking nothing away from the ground-feel.  
Simple to pack, these flats are the perfect option for carrying in your bag and slipping on when you're at a place you'd rather not be barefoot in.
Options:
Hand painted accents.  Choose your favourite from the menu.
Custom made.  Includes: patterning to your own foot tracing or made to a different standard shoe size.  You can choose your own colours of deerskin and/or have them feature with hand painted accents.  Please place your custom order: here.  
Important notes:
This pair is ready to ship and will ship within 48 hours of purchase when hand painted accents are not desired.  
Should you choose to have the addition of the hand painted details, they will be completed and shipped within 2 weeks.  
Sizing: We encourage you to buy the shoe size you typically wear as this style has been patterned appropriately for each standard shoe size (there is no need to buy smaller to allow for stretching).
Truly unique...truly Canadian, Northern Heart Designs