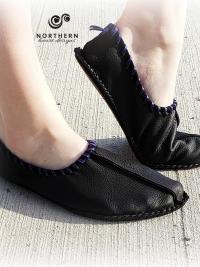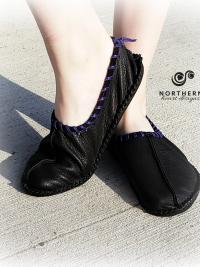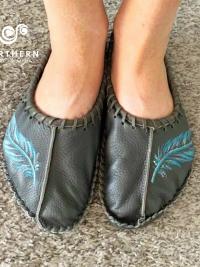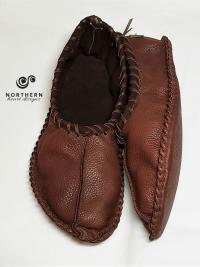 Our Deerskin Flats are a ballet-flat style moccasin made exclusively with the softest deerskin. A slim and fitted style, they are unlined so there's nothing but the feel of the buttery-soft leather against the skin. They have a thin layer of high density memory foam between the inner and outer leather soles - adding just a touch of cushion under the foot but taking nothing away from the ground-feel.  The Deerskin Flats can be custom patterned to your foot tracing or made to a standard shoe size.
They're beautiful in a solid color or charming to add a pop of color to with a second color for inner sole and/or accent lacing at the ankle.  Leave them unadorned or choose to have a leather-painted image to personalize...
If you're local to us in or near Winnipeg and would like to pickup you order when it's ready, use coupon code PICKUP at checkout to waive shipping.