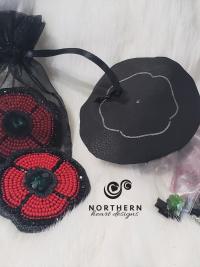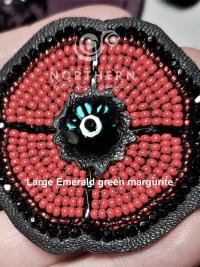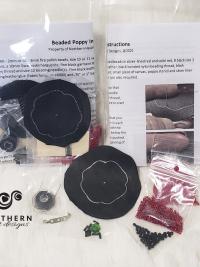 Bead Your Own Poppy Complete DIY Kit
Create your own custom beaded poppy pin with our easy-to-follow make your own poppy kit.  If you are local to us in Winnipeg, please note that the beaded poppy is one of the projects offered for our Summer beading circle evenings - if you'd like to come make yours in person, you can find the details on that here:  Northern Heart Designs
The kit comes with everything you need to bead and complete your own poppy pin - and you can choose from select options to creat the look you'd like.  Our fully illustrated instructions will lead you through completion.  In order to offer free shipping across Canada (discounted to US), you only need to add some glue (we recommend Fabric Fusion or E6000).
Choose your Fire Polish frame beads - 2mm and 3mm options available.  Choose your center margurite: three options available.
Silver-line and solid red fill beads, beading thread and needle, leather pieces, backing material and pin complete the kit.
Ready-to-ship and head out next day (or same day in some cases)
* If you choose to add additional supplies for more poppies and want different selections for them, please leave a note on your order