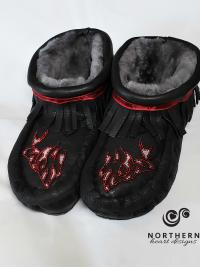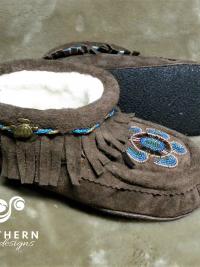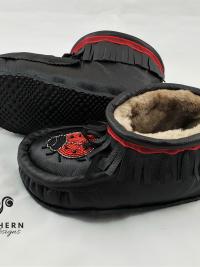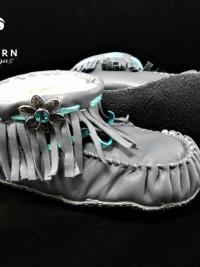 Winter Moccasin Making Class
What are you up to in the summer days to come?  Looking for a few fun evenings out doing something creative with like-minded folks?  Come hang out with us - have fun learning a new craft and walk out with an amazing project to wear!
If you live in or near the west edge of Winnipeg, you're in luck... Northern Heart Designs is hosting a three week course to teach you how to make your very own pair of Winter Mocs. If you've ever wanted to create your own now is the time - but don't wait as we expect this class to fill up quickly!  On par with Mukluks for warmth, winter moccains are the ideal running around pair of winter footwear - and we'll show you how to custom pattern to your own foot so they'll be the most comfortable 'boots' you've ever owned (let along made!).  The winter moccasin is designed to be plain and beading is not a standard part of this class, but you do have the option to add if you wish.
Tell me more? We'd be happy to...
What: Northern Heart Designs will be teaching a "How to Make Winter Mocs" class, live and in person.  If you are remote and unable to attend, please see our courses and kits section - you are able to participate virtually as part of the online class group and video tutorials along with your kit!
When: Three Monday evenings from Aug 28st - Sep 18th from 7pm-10pm (No class Mon Sep 4th).  This will be our only session for 2023 and the last class in our summer lineup.
Where:  Under our market tent classroom space, 721 Parkhill St, Winnipeg.  This is an outdoor open air space where you can enjoy the fresh air while you work!
Investment: Total cost for materials, supplies, 3 weeks of in-person instruction and ongoing support for future projects (including fringed moccasin making course manual) is $155 (taxes in).  Like all things, you do get what you pay for - we use only premium hides and materials in our products...so only the best for our students as well.  You'll be provided with all the little extras that make our moccasins look and function better than the rest.  Register before Aug 30th to receive the $10 early registration discount!
What you'll learn:  Patterning for any size foot (custom or standard sizes), how to properly handle and prepare all of the materials, sewing and construction - everything to make a complete pair of winter mocs from start to finish (and be able to make more in the future should you wish!).  We will be doing plain or leather weave foot vamps, so leather weaving patterns will be taught should you wish to add them.  As a bonus, you will gain the knowledge of how to craft some different styles and understand the basics of creating other footwear as well.
Make your color choices and let your imagination soar!  At the end of this course, you'll walk out with your very own custom handmade pair of winter mocs!
All of your materials will be supplied based on your choices. You get to choose the colour (or colours if you'd like to do two-tone) for the standard suede hide. Standard lining materials (our highest quality sherpa lining comes in two colors), sinew, threads, needles, adhesives, insole and exterior sole materials, laces and decorative trims for fringe accents etc are included. *If you wish to pay the additional cost of materials - like different leathers or lining beyond the standards, you are welcome to (those options are available in the drop down menus).  Students will only be required to supply some simple personal use tools like scissors, needle nose plyers, ruler, pen, sharpie etc.
Payment details/Cancellation Policy
A deposit of $80 is required to register and the balance of $75 is required on or before the start date - or you may choose to pay the full amount with registration.
Deposits can be refunded if cancellation notice is given to us one week prior to start date. No deposit refunds will be made after one week prior to start date. 
As always, please feel free to send a message if you have any questions. We look forward to teaching you how to make your own Winter moccasins our way - with all the little quality controls, tips and tricks learned over the years!