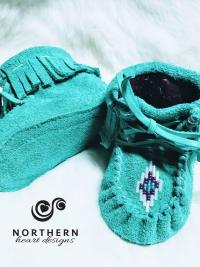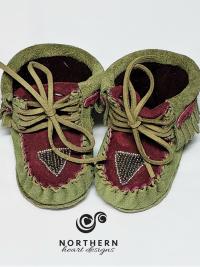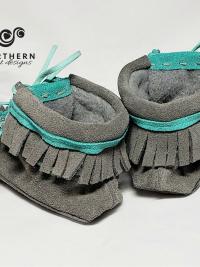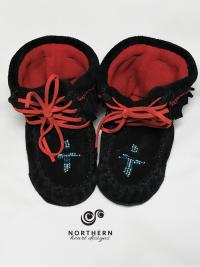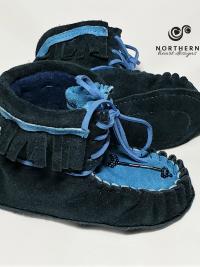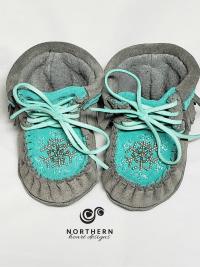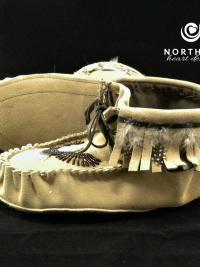 Toddler/Preschool Tramper Mocs Making Class - *NEW* weekend clinic
If you live in or near the west edge of Winnipeg, you're in luck... Northern Heart Designs is hosting a two day mornings workshop to teach you how to make your own toddler/preschool Tramper (fringed) Moccasins. If you've ever wanted to try your hand at these, now is the time - but don't wait as we expect this class to fill up quickly!
Tell me more? We'd be happy to...
What: Northern Heart Designs will be teaching a "Toddle/preschool Tramper Mocs" class, live and in person.  If you are remote and unable to attend, please see our courses and kits section - you are able to participate virtually as part of the online class group and video tutorials along with your kit!
When: Sat Sep 9th and Sun Sep 10th from 9am to Noon.   There are limited spaces available as we cap this class at a maximum of 10 students.
Where:  Under our market tent classroom space, 721 Parkhill St, Winnipeg.  This is an outdoor open air space where you can enjoy the fresh air while you work!
Investment: Total cost for materials and supplies with full instruction is $54.
What you'll learn:  How to work with the materials, sewing and construction, simple beading (should you wish to add!) - everything to make a complete pair of toddler wraps from start to finish (and be able to make more in the future should you wish!).
Make your color choices and let your imagination soar!  At the end of this course, you'll walk out with your very own custom handmade pair of tramper mocs! (for your own littles - or anyone else you want to treat!)
All the materials will be supplied based on your choices. You get to choose the colour (or colours if you'd like to do two-tone) for the hide and lacing.  Materials will be available per everyone's selections, but there is usually some leeway for choosing different colors based on availability that day.  Pattern in the size of your choice, standard lining materials, threads, needles, beads, specialty tool use are included. *If you wish add light crepe rubber exterior soles, you can.  Students will only be required to supply some simple personal use tools like scissors, needle nose plyers, pen, etc.
Payment details/Cancellation Policy
In the event of cancelation due to changes in provincial/municipal covid restrictions, students will have the option to switch to remote learning, take part in a reschedule date or receive a refund if the cancelation takes place prior to start and receipt of materials.
Registration can be refunded if cancellation notice is given to us prior to 1 week from start date. 
As always, please feel free to send a message if you have any questions. We look forward to teaching you how to make your infant/toddler wrap-arounds our way - with all the little quality controls, tips and tricks learned over the years!