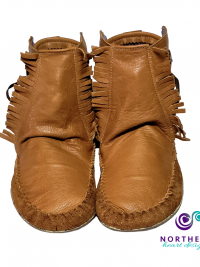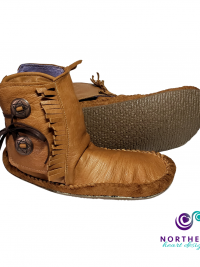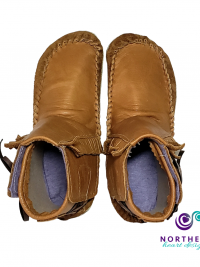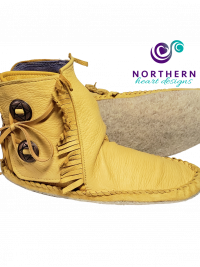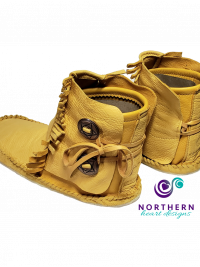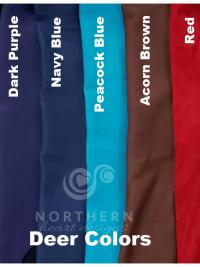 We 're keeping things wild with our new Side-Wrap moccasin design!  They are created only with wild hides only and designed as an unlined high-cut moccasin style; there's nothing but the soft feel of the leather against your foot.  
Base price includes:
Custom patterning to your foot tracing or standard (US) mens and ladies sizes available,
Confirmation of all selections with the artist prior to start of production,
Your choice of bison hide colours,
High density foam insole
Secondary exterior leather soles in the matching hide,
Concho button or Concho leather tie closure
Options available:
Leather upgrade to Moose or Deer hide, available in multiple colours
Cotton blend lining,
Light-weight crepe rubber exterior sole,
If you would like help making your selections prior to checkout, you are welcomed to use our personal shopper service.
Important notes:
Production times on custom orders can vary, but usually fall within the 5 - 7 month mark.
Christmas cut-off is June 30th.
These cutoff dates are subject to change.  Feel free to contact us directly to confirm. 
If you prefer to confirm your order with a 50% deposit or would like to set up an instalment plan choose "instalments" at checkout.  Full details in our FAQ 
We look forward to creating your custom made pair of Side Wrap Moccasins! Thank you for supporting small business.
Truly unique, truly Canadian...Northern Heart Designs