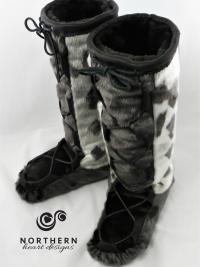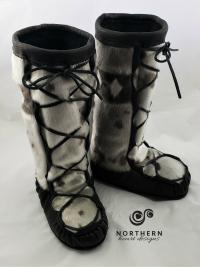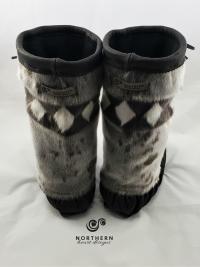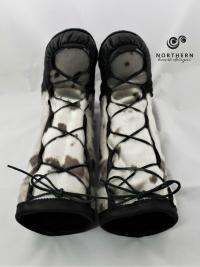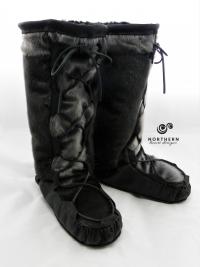 The traditional boot of the arctic, the Kamik, differs from the southern mukluks in a few ways, but the most significant are the seamless foot panel (no heel seam) and the water-proof stitched seams.  Rather than beading, Kamiks were typically adorned with patterns sewn directly into the fur itself... using different colored pelts to create images on the boot.
The Northern Heart Designs Kamiks are made out of seal hide (available in a variety of colors) with bison leather foot panels and accents (available in tan or black).  Having the foot panel done in seal hide as well for the "full-fur" look is also an option.  Laced across the foot and up the front of the leg, the Northern Heart Designs Kamik is the ultimate in arctic winter wear.  Custom-patterned to your foot tracing, calf measure and total height request, the Kamiks can also be produced in standard sizes.  Base-priced at $799 with combination sheared wool lining that is additionally fleece-backed and thermal insoled, full sheared wool, combination shearling, and full shearling lining options are also available.
The Kamiks come standard with secondary exterior leather soles that are finished with our mukluk rubber layer for traction and longevity.  
(*seal products are not available for shipping to the US)
(If you prefer to confirm your custom order with a 50% deposit or would like to set up an instalment plan towards your purchase, please contact us here to make the arrangements.)