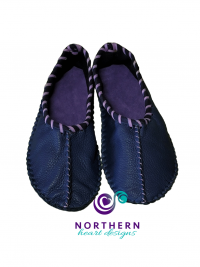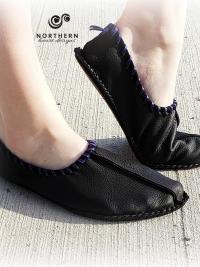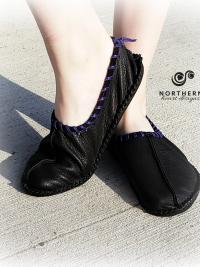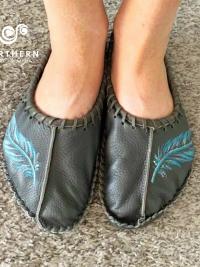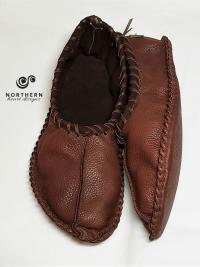 Online Classes - Deerskin Flats DIY Kit
For those that live too far from us here in Winnipeg to be able to attend classes in person, we are happy to support you through remote learning!  With the purchase of a kit, you will be invited to a private class Facebook group with access to video tutorials, one-on-one chats, and the ability to post questions along the way if required.
Sometimes the joy is in making your own, so if you're a crafty individual, the Deerskin Flats making kit is for you!
Base price includes all standard materials needed to make your pair from top to bottom... your choice of (or colors!) for the deerskin, insole material, needles, threads, adhesive, lacing etc.  Details of your plan; single color or two-tone etc, will be confirmed before your order is cut.  We'll make sure you've got what you need to create the look you want!
You can choose any size for your Deeskin Flats kit - you even have the option of submitting your foot tracing and measurements to have them custom-patterned for you at no additional cost.  The selected size pattern used for your Deerskin Flats will be included with the materials for your reference and use.  Option to add the full book of pattern sizes is available.  Lacing holes are punched in your cut pieces prior to shipping, so no need for specialty tools.
If you've purchased our Deerskin Flats making course materials or attended our classes, but just don't want the hassle (or expense!) of seeking out everything required, the Deerskin Flats kit is perfect for you.  Purchase of the course material entitles you to ogoing support for current and future projects - just like our students able to attend classes in person!
As kits can only be compiled once an order is received, please allow up to 2 weeks for shipping of your kit.  If you are submitting your details for custom patterning, it will be within 2 weeks of those requirements being received.
Happy Creating!