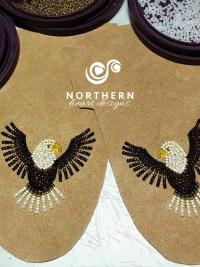 Northern Heart Designs Bead Patterns
Beading takes time and skill, but some times it feels like the hardest part is just deciding on a pattern!
If you've seen something on our site - or elsewhere in the world wide web (NHD watermarked pictures show up all over the place!) and you'd like to try your hand at it, we've got you covered!  We're all for supporting other makers in their creative journeys by providing our patterns for your use.  Our simple patterns are free to try - you are welcome to produce any of them and post where you wish "with persmission from Northern Heart Designs".  If you would like a clearer picture of any particular one, just send us a message and we'll be happy to help.
Levels 1-4 and Larger panel designs are available through the drop down menu.
Once you've purchased a pattern, whether it be delivered by PDF file of the scaled/twinned pictures, Cricut file, or physical stencils and reference photo, once purchased, it is yours to produce.
Prices vary depending on complexity and size of the pattern you're choosing.  You can see examples of patterns in the beading galleries these are orginal Northern Heart Designs patterns and most are available for sale (exceptions include recreations of people's logos or designs we do not own the rights to).  Selections are not limited to the examples used in this listing.  Please see the beadwork galleries for more ideas and patterns.  If you would like to have a custom stencil pattern created for you from a picture - to draw out as a pattern to follow/bead, that service is available as well.  While any central images used in our signature nothern lights panels are available, the northern lights themselves as I do them, are not.  They are drawn free-hand each time, there is no set pattern to provide, and at this point they've become very recognizably signature Northern Heart Designs (as done this way).  We encourage beaders to look at pictures of nothern lights and be creative in representing those as YOU see them in beads.
Most single image patterns (things you would see on foot vamps, backs of mitts, etc) come in more than one size.  If that is the case, you will receive all sizes of your pattern with purchase.
Your selected pattern will be sent via email or letter mail (if you're choosing a physcial stencil) within 48 hours of order.
Galleries | Northern Heart Designs
*A select few examples will be the logos or designs of individuals that can not be shared.