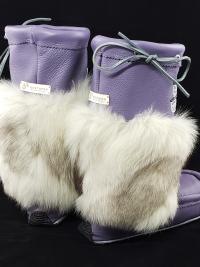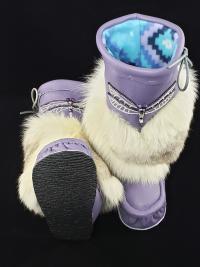 Mid-Calf Style Mukluks, Lilac colour with Dragonfly Beading, Ladies 8 (fit 7.5-8.5)
This pair of ladies Mid-Calf Mukluks are done in light purple garment leather with mixed winter white and grey fox furs.  They are combination lined with our 100% real shearling wool in the feet sections for exceptional warmth.  Jeweled-body dragonflies beadwork above the fur section, 13" height.
Our mukluks are patterned snug so they stretch and mold to the feet for a perfect fit, rather than stretching out to be floppy.  You do not need to size down for NHD mukluks, they will be appropriately snug to start in the listed size.
This pair is a ladies 8 and will comfortably fit from ladies 7.5-8.5