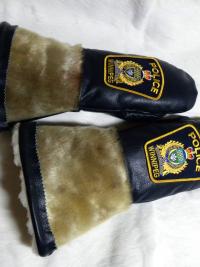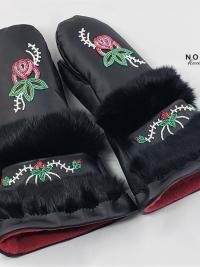 Sometimes the joy is in making your own, so if you're a crafty individual, the Gauntlets making kit is for you!
Base price includes all standard materials needed to make your pair from top to bottom... your choice of color in the standard suede hide, deluxe sherpa lining material, needles, thread, etc.  If you wish to select different leathers or lining beyond the standard (ie, the favorite shearling wool lining), you may do so as well - those options are all listed in the dropdown menus.  Details of your plan; single color or two-tone etc, will be confirmed before your order is cut.  We'll make sure you've got what you need to create the look you want!
You can choose any size gauntlets for your kit - the pattern used for your mitts will be included with the materials for your reference and future use.  The gauntlets are traditionally hand sewn with no need for specialty tools or machine.
If you've purchased our mitts making course materials or attended our classes, but just don't want the hassle (or expense!) of seeking out everything required, the guantlets kit is perfect for you.  If this is an additional kit for you, you're good to go - enjoy the cost savings on materials as you continue to create.  If this is your first and you require instructions, our guantlets making course material is available at a discounted rate when purchasing a the kit.  Purchase of the course material entitles you to ogoing support for current and future projects - just like our students able to attend classes in person!
As kits can only be compiled once an order is received, please allow up to 2 weeks for shipping of your gauntlets making kit.
Happy Creating!