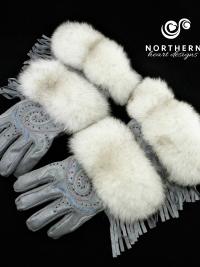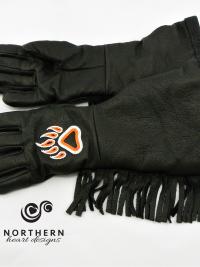 Gauntlet Gloves, Double fur trim
Built to your choice in size, the Gauntlet Glove has a leather front and back on the hand section, leather on the underside of the forearm and two sections of fur separated by a leather section on the the top side of the forearm.  It comes standard with a single panel of Level 1 beading on the back of the hand (small accent beading between the fur sections included).  Other beading options, including Level 2, Level 3 beading and more extensive coverage are available. 
The double fur trim gauntlet gloves are base priced at $419.00.  All leather forearm section (no fur) is an option.  Base price includes any color Alaska split hide (suede finish), any color rabbit fur, simple beading selections and single or double fleece lining for the interior. 
Options include leather or fur upgrades, artifcial sheepskin lining (real shearling is not available in this product due to bulk), select or custom beadwork or having decals (supplied by the buyer) attached.
(If you prefer to confirm your custom order with a 50% deposit or would like to set up an instalment plan towards your purchase, please contact us here to make the arrangements.)