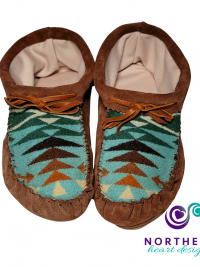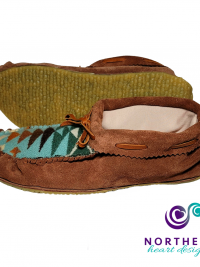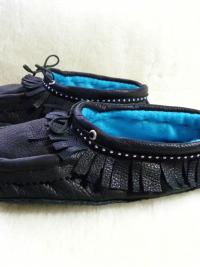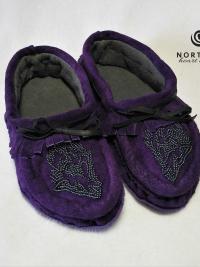 Fringed Mocs, Ankle Height
Built to size, Fringed Mocs are available in either ankle height or high cut styles.  They have a thick, high density comfort foam insole layer between the lining and foot bed.  For outdoor wearing comfort, comfort insoles with light heel cup and arch support are available.  Parchement crepe is standard on the second exterior leather outer sole - these are outdoor mocs, made to contend with concrete and other hard summer surfaces.  These moccasins are hand-sewn and now feature the more stream-lined, canoe-stitched toe seams (exposed stitching).  If you prefer the older covered toe seams, they are still available as an option under "design selections"
Each pair comes with a little bling or signature touch around the top of the fringe, beadwork is optional.  Base price on the ankle height Fringed Summer Mocs is $129.00 ($149.00 for high-cut).  Base price is for any color Alaska split hide (suede finish), decorative trim around the top of the fringe, double stretch cotton lining or fleece standard.  The summer moc comes standard with secondary exterior leather soles that are finished with a Walk base vulcanized rubber layer for traction and longevity.
(If you prefer to confirm your custom order with a 50% deposit or would like to set up an instalment plan towards your purchase, please contact us here to make the arrangements.)