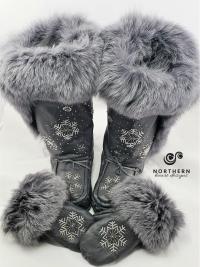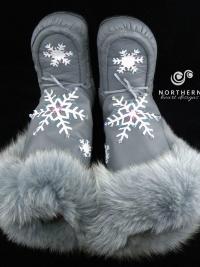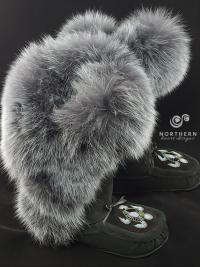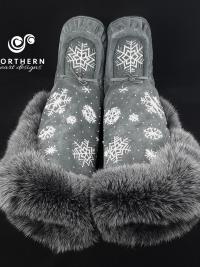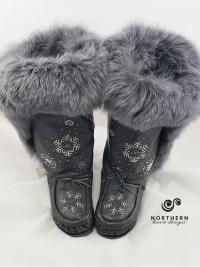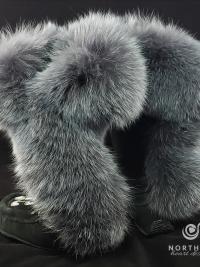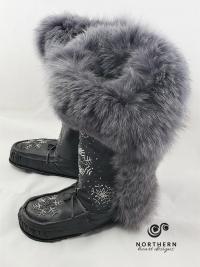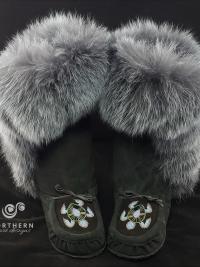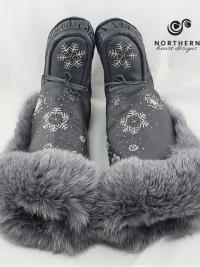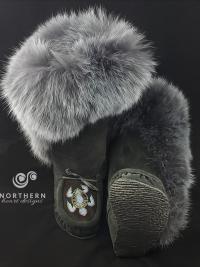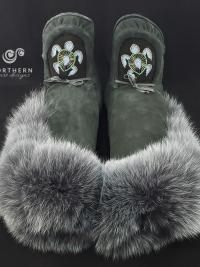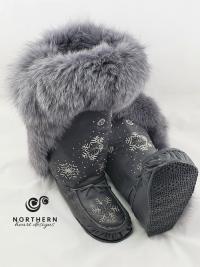 Drop-side cuff All Leather Mukluks
Our Drop-Side Cuff Mukluks are an opportunity to get creative with having art-in-leather used to create a unique and beautiful look. The Drop-side Cuff Mukluk is a slip-on boot, its not available with zipper or tie options.
Base price includes:
Custom patterning to your foot tracing or standard (US) mens and ladies sizes available,
Confirmation of all selections with the artist prior to start of production,
Your choice of any colour standard suede finish or smooth finish hide,
Your choice of any colour rabbit fur,
Your choice of Level 1 beading OR leather appliqué on the foot vamps,
Lined with Deluxe Sherpa,
Thermal insoles,
Mukluk rubber soles over the secondary exterior leather soles for traction and durability,
14" shaft height with anti-slouch layer.
Options available:
Additional leather appliqué designs,
Real shearling linings,
Premium fur,
Leather upgrades,
Mid-level support insoles,
Built to your requested height of up to 18" with anti-slouch layer,
Discount on matching mitts or gauntlets
Discount on 3 season weight lining.
If you would like help making your selections prior to checkout, you are welcomed to use our personal shopper service.
You can see our gallery of finished mukluks for more ideas and inspiration.
Important notes:
Production times on custom orders can vary, but usually fall within the 5 - 7 month mark.  They are directly related to amount/complexity of beading or design.  They can be longer during peak season (winter).
Mukluk orders confirmed by March 31st will be in production for fall delivery. 
Christmas cut-off is June 30th.
These cutoff dates are subject to change.  Feel free to contact us directly to confirm. 
If you prefer to confirm your order with a 50% deposit or would like to set up an instalment plan choose "instalments" at checkout.  Full details in our FAQ 
We look forward to working with you to create your custom-made pair of Drop Side-Cuff Mukluks! Thank you for supporting small business.
Truly unique, truly Canadian...Northern Heart Designs