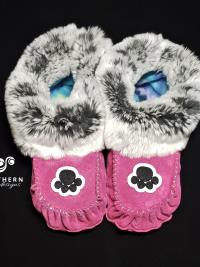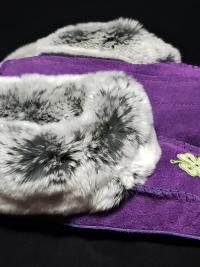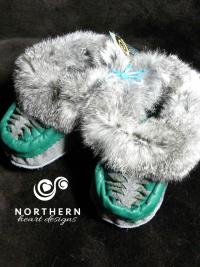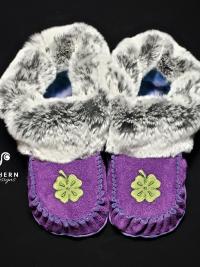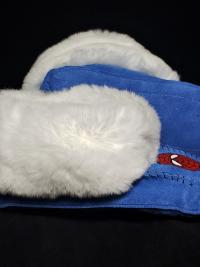 Children moccasin slippers, leather woven or otherwise decorated
Our Children's moccasin slippers are traditionally styled the same as our adults and priced according to size (material use, time) rather than age of the wearer.  They are done in your choice of color in standard suede finish hide, fleece lined with memory foam insoles and have a secondary exterior leather sole for longer life.  Smooth finish leathers also available.  Your choice in color for rabbit fur trim or substitute a fringe around the cuff instead. 
Your choice of decals, color selection for weaving or otherwise decorating the vamps (decorative large beads/rivets/strips etc).  Up to size 8 toddler they are $44, preschool sizes 9-11 are $54, kids sizes 12-1 are $64 and kids (tween) sizes 2-5 are $74.
(If you prefer to confirm your custom order with a 50% deposit or would like to set up an instalment plan towards your purchase, please contact us here to make the arrangements.)