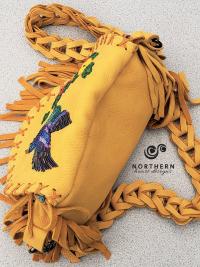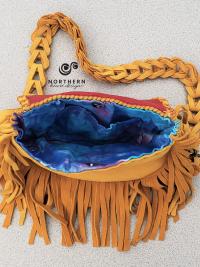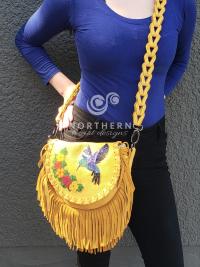 Beaded Fringed Leather Bag
*** The next lot of Beaded fringed leather bags will be the pre-Mother's Day delivery group.  There are still 6 spots remaining in that lot and we will update the listing as they fill ***
New to the lineup at Northern Heart Designs, we've got our beaded flap, fringed leather bag.
Built in your choice of hide color and type, the fringed leather bag is a gusseted 3/4 round bag with front flap and three rows of fringe dangling below.  The lined interior had magnetic closure and small inside pocket on the back wall.  Available in cross body or shoulder lengths, the strap is woven from your matching hide and attached with swivel clips for ease of use and twist avoidance.  Base price includes your choice of Level 3 bead design for the front flap - you can make a statement everywhere you go with a design unique to you!
The Beaded Fringed Leather Bag is available in 3 sizes, with proportionate beadwork amounts on the flaps.  The larger bags have more beading hours included.
These are a favorite item to make and we look forward to creating for you! 
(If you prefer to confirm your custom order with a 50% deposit or would like to set up an instalment plan towards your purchase, please contact us here to make the arrangements.)